TOUCHBOARD INTERACTIVE DISPLAYS
ENHANCE YOUR EXPERIENCE
TouchBoard Interactive Panels are designed to greatly enhance the interactive and multimedia experience across a variety of settings.
Practical and functional, TouchBoard Interactive Panel are available in Full HD and Ultra HD resolutions and screen sizes including 55", 65", 70" and 84".
With options that include an inbuilt PC, Android platform or SoundBar a system can be tailored to meet your individual needs.
TouchBoard Interactive Panels have a robust and durable build quality and a comprehensively backed 3 and 5 year Australian warranty and support program.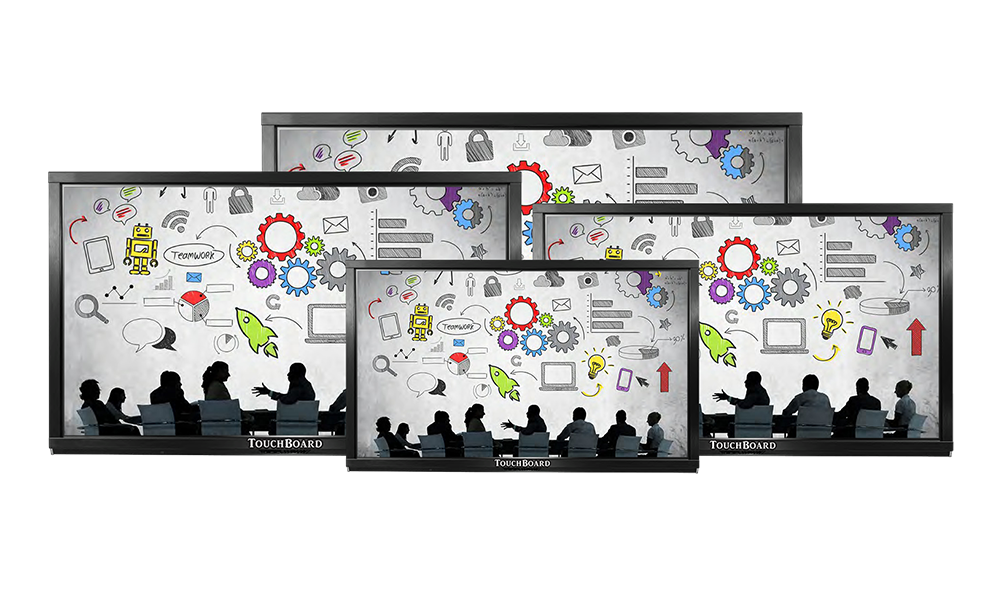 TouchBoard Features

TouchBoard Benefits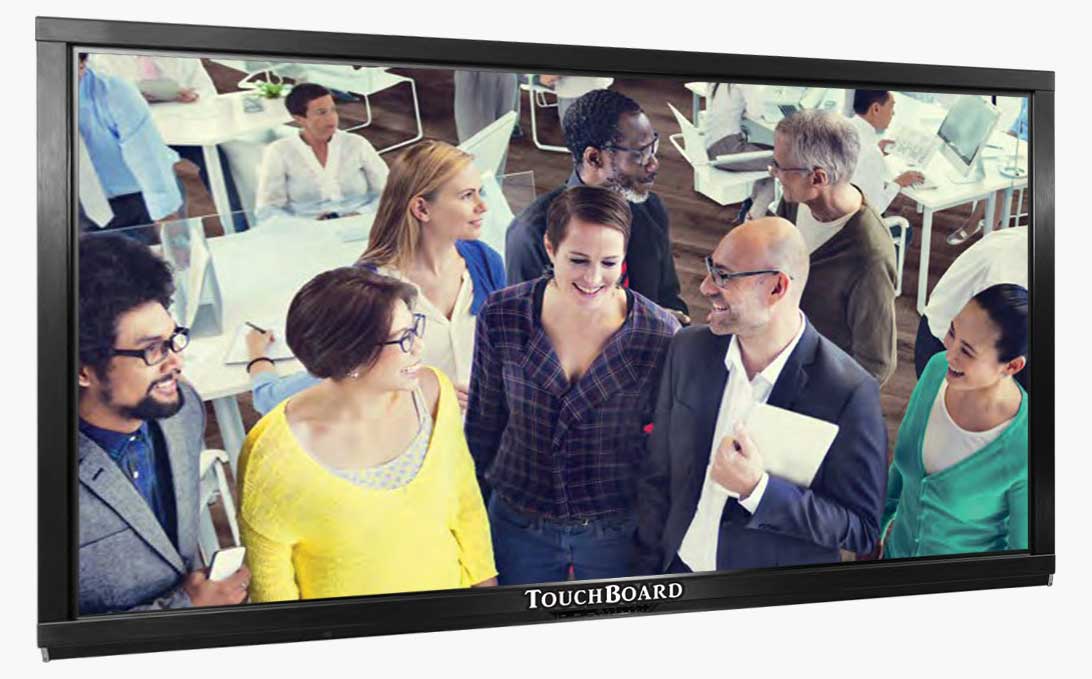 Increased collaboration with 6 simultaneous points of touch interaction

A clear and bright image resolution from the front to the back of the room

Exceptional brightness across the life of the panel. No lamp burn or image degradation

Improved ergonomics through less shadowing and brightness/heat from the projector beam

Lower running costs resulting from longer life span, lower energy consumption and no required consumables.
TouchBoard Software
TouchBoard software is designed to be simple and intuitive and without the need for extended user training.  A friendly toolbar allows the user to import documents and insert text, shapes and images, draw, write and annotate. Documents created can be saved, printed or emailed.
TouchBoard software brings enhancement to existing programs, files and websites providing the user with touch, gesture, control and annotation functions thanks to its Windows 8 and Active Border compatibility.
TouchBoard Connectivity
TouchBoard LED Multi-Touch Panels offer a great combination of inputs. Composite, VGA, AV and three HDMI inputs support a wide variety of devices including Video Conferencing, Apple TV, Chromecast and Android. An inbuilt SD slot provides easy file transfer and audio options are covered with 3.5mm, AV and optical connections.
TouchBoard includes the option to add an internal OPS PC at any time as well as an internal or external android platform. Multimedia sound field can be enhanced by simply adding our TouchBoard SoundBar.
Technical Overview
Sizes
Full HD 1080p 55″, 65″ and 70″, Ultra HD 4K 84″
Interface
USB Infared bezel with 6-point or 10-point touch
Panel
Samsung, Sharp or LG Commercial Display Grade
Surface
4mm tempered safety glass. Scratch resistant with Anti-Glare
Sound
2 x 10w internal speakers
Connectivity
3 x HDMI, 1 x VGA, RCA, 2 X USB, AUDIO
OS
Windows, MAC Linux
Warranty
3 Year and 5 Year onsite options
Other Options
Inbuilt PC, External Android and Multi-Media SoundBar
Mounting Options
Wall Mount included. Also compatible with the full range of TouchBoard Mounting Systems
 DOWNLOADS
WOULD YOU LIKE MORE INFORMATION?