Mobile Kindy Trolley System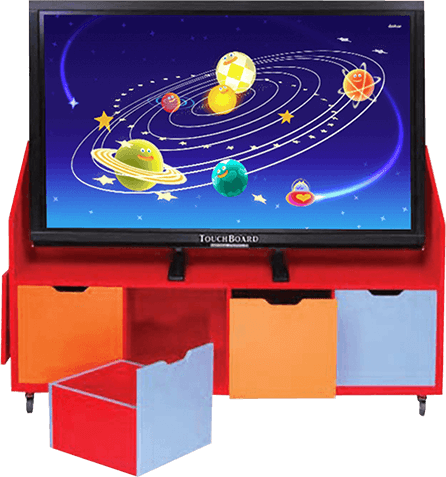 Mobile Kindy Trolley System
The TouchBoard Mobile Kindy Trolley System is great addition to enhance any early years and kindergarten environment. Solid in construction, the Kindy Trolley System is designed to support modern LED touch panels up to 75kg, providing a mobile and secure mounting solution that is low enough for even the youngest of users.
The Kindy Trolley includes a fold down laptop shelf and four removable storage draws to make play and pack-up easy and convenient. A whiteboard is mounted on to the back side of the trolley allowing for added flexibility.
Compact in design and easy to manoeuvre, the Kindy Trolley System is the ideal solution for both open plan learning centres as well as smaller shared spaces. Being mobile it is easily moved between areas and packed away when required.
Designed to provide complete flexibility in any learning area
Sturdy and robust supporting 55" to 65" screen sizes
Mobile feature to easily move between areas and pack away when not required
Low in height designed for Early Years usability
Includes whiteboard and removable draws for storage
Included Leg Brackets used to mount touch panel to trolley
Integrated power distribution board with surge protection
Fast and easy installation process